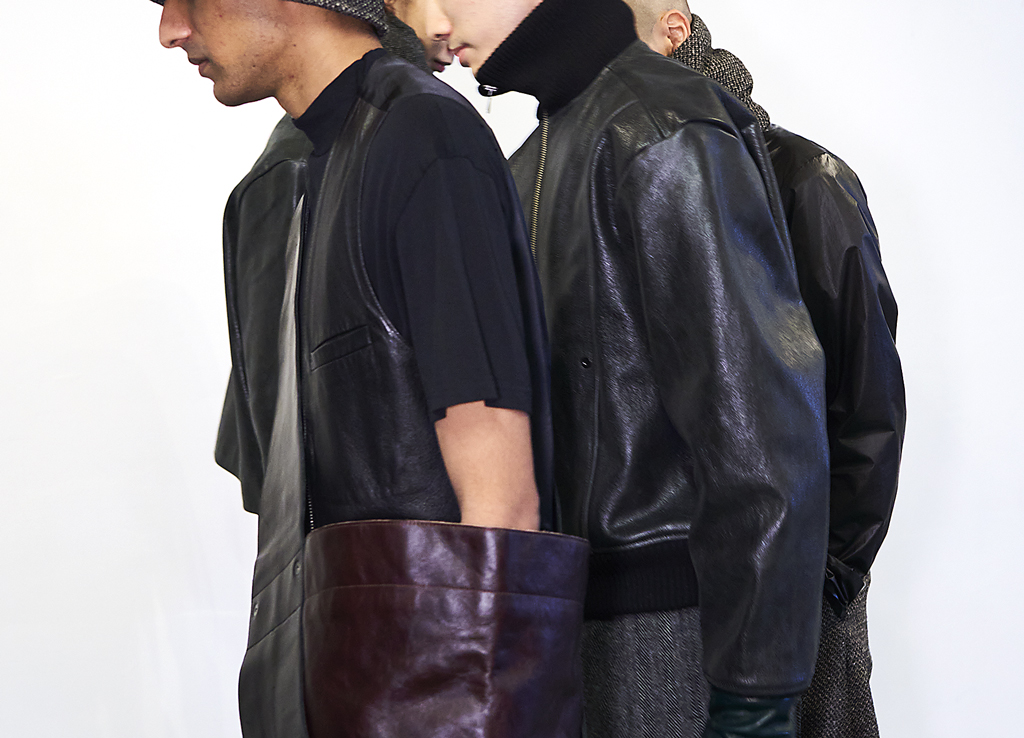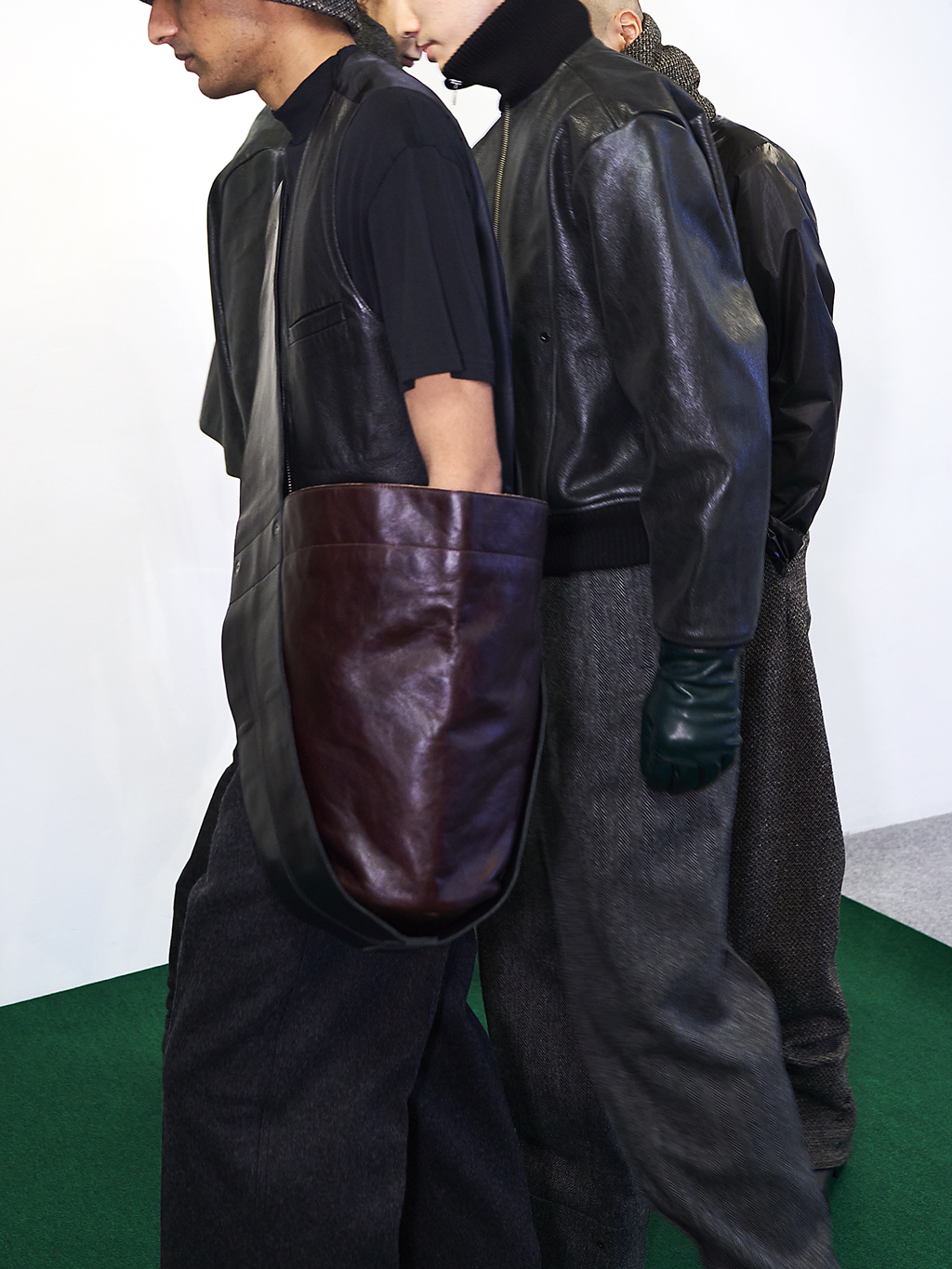 FASHION 2022.2.2
OMAR AFRIDI
Deeply sensitive to the sanctity of nature, Omar Afridi infuses his love of primitive elemental creativity with modernity. Afridi believes in treasuring resonant ethnic traditions, and in renewing the best of our collective past; saying, doing, making, wearing, and sharing, are all vital aspects of ourselves. Out of this process has come the unique style of the Omar Afridi brand – a style to which its creators have given the name Primitive Mode.Omar from Afghanistan started the brand. He was joined by and lchimori and Kikuta from Japan. They created their new style by combining their different points of view. The concept of Primitive Mode focuses on the primitivism that emerged. It is a way of communicating through clothing the artistic mentality of the present time.In his London studio, Omar Afridi – flanked by Jun Kikuta as creative dirctor and Hayate Ichimori as designer – has taken his first steps in developing a uniquely iconoclastic menswear collection. Afridi simultaneously forges collaborative links with highly skilled artisans, to ensure that production facilities in the United Kingdom and Japan will be able execute his visionary designs to perfection.
Photo Kohei Kawatani
Styling Keita Izuka
Model Lisas, Gendai, Ryunosuke, Kazuma
Edit Hiromu Sasaki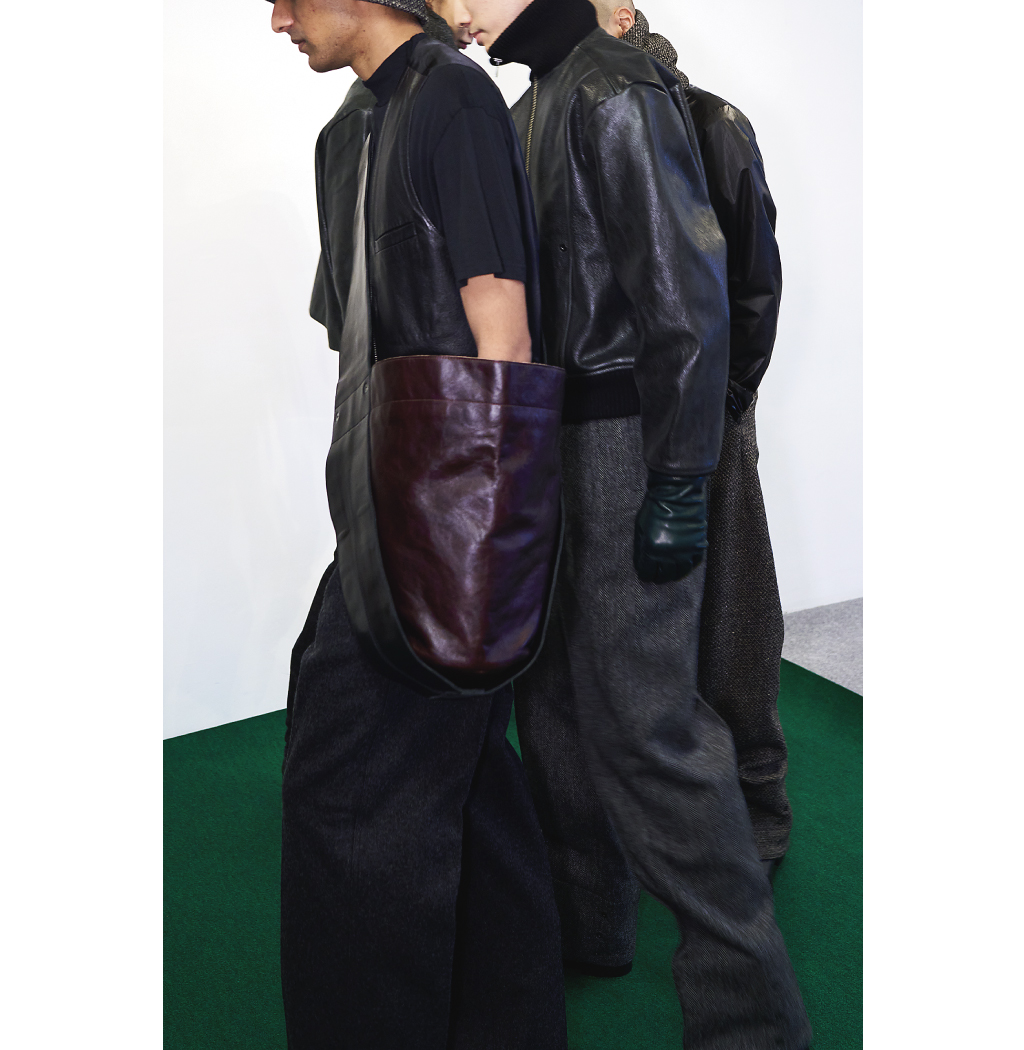 (Front) FOX VERB HAT ¥36500, DRAWN BAG ¥95000, HUES FELT 5 PKTS TRS ¥98000 / Omar Afridi
(Middle) PILOT BLOUSON ¥190000, FOX TWEED PRESSED TRS ¥94050, CURVED GLOVES GREEN ¥31350 / Omar Afridi
(Back) DOBBY VERB SCARF ¥31350, DOBBY TWEED PRESSED TRS ¥94050 / Omar Afridi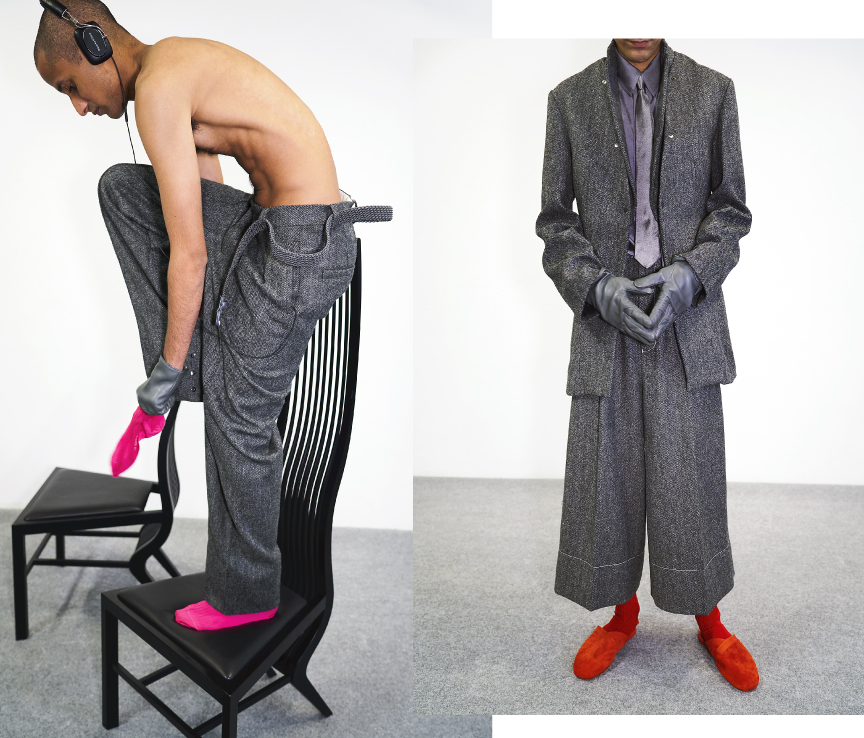 [LEFT] FOX TWEED PRESSED TRS ¥94,050 / Omar Afridi, USED BOWERS & WILKINS P5 SERIES 2 ¥13300 / E-EARPHONE, MONROE Chair ¥495000 / Tendo Mokko
[RIGHT] DET COLLAR JKT ¥115500, WIDE CROPPED TRS ¥85000, CURVED GLOVES ¥31350 / Omar Afridi, JOHN LOBB KNIGHTON ¥104500 / JOHN LOBB JAPAN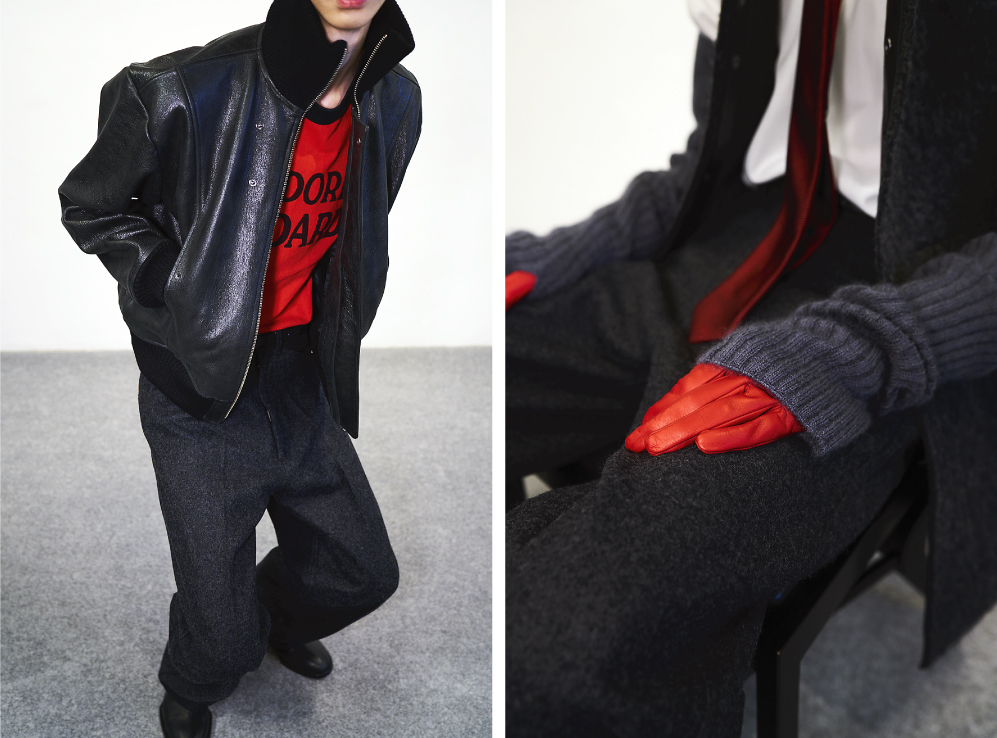 [LEFT] PILOT BLOUSON ¥190000, HUES FELT 5 PKTS TRS ¥98000, DRAWN BOOTS ¥111000 / Omar Afridi, T shirt ¥15400 / GODARD HABERDASHERY
[RIGHT] BOA VEST ¥79200, HUES FELT 5 PKTS TRS ¥98000, LINE WARMER ¥22280 / Omar Afridi


Those of us who grew up on the bracing diet of minimal and conceptual art have long been suspicious of artistic notions of individualism and transcendence, seeing art's relation to metaphysical conceits as one of demystification. Consumer society, meanwhile, has become even more enchanted by the production and consumption of objects. Omar Afridi started his AW21 collection with an experiment to seek new forms, taking advantage of fabrics which give the designer liberty in the shape-making process. Along this journey, the integration of material, place and process manifested itself in this new collection. Through embracing the essentially arbitrary behaviour of materials - random piling, loose stacking, hanging - Afridi leaves forms free to reconfigure themselves, endlessly, beautifully. This gives passing form to the material. Chance is accepted and indeterminacy is implied, since replacing will result in another configuration. "Once you change the angle from the way you look at things", it has been said, "detail emerges from the change in movement". Anti form work holds the potential to take a different shape each time it is presented, based on the arbitrary behaviour of the materials from which it is composed.

With all of these thoughts and techniques, we formed new classic figures by using fabrics such as timeless herringbone tweed from FOX BROTHERS, which continues 250 years' tradition as a unique and iconic British textile manufacturer, Dobby tweed made from Japanese - woven 100% British Wool, Cracking binder leather and invitingly smooth-finished Hainsworth Melton - with its playfully iconoclastic take on tradition, methods, and materials.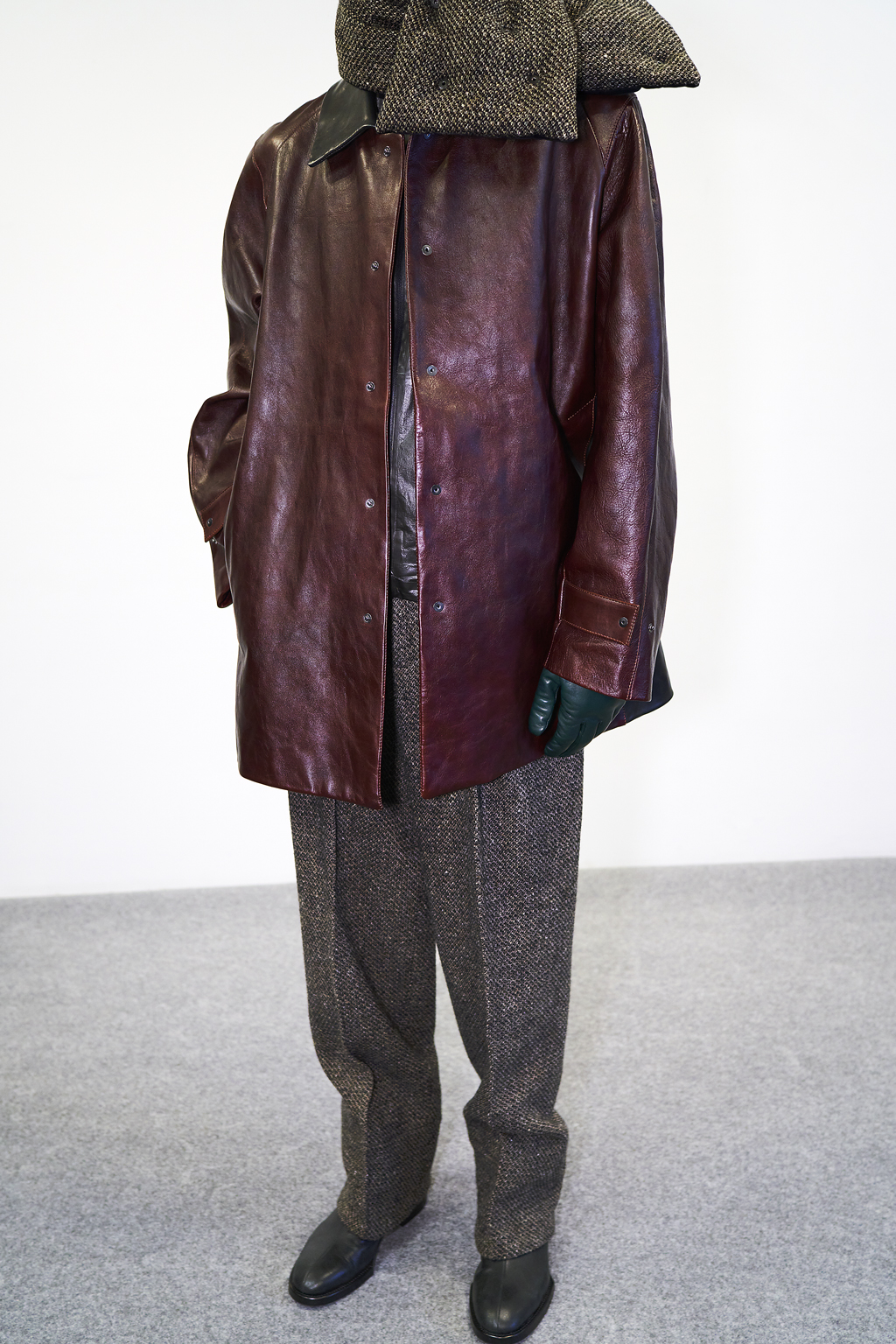 DOBBY VERB SCARF ¥31350, CAR COAT ¥214500, DOBBY TWEED PRESSED TRS ¥94050, CURVED GLOVES GREEN ¥31350, DRAWN BOOTS ¥111000 / Omar Afridi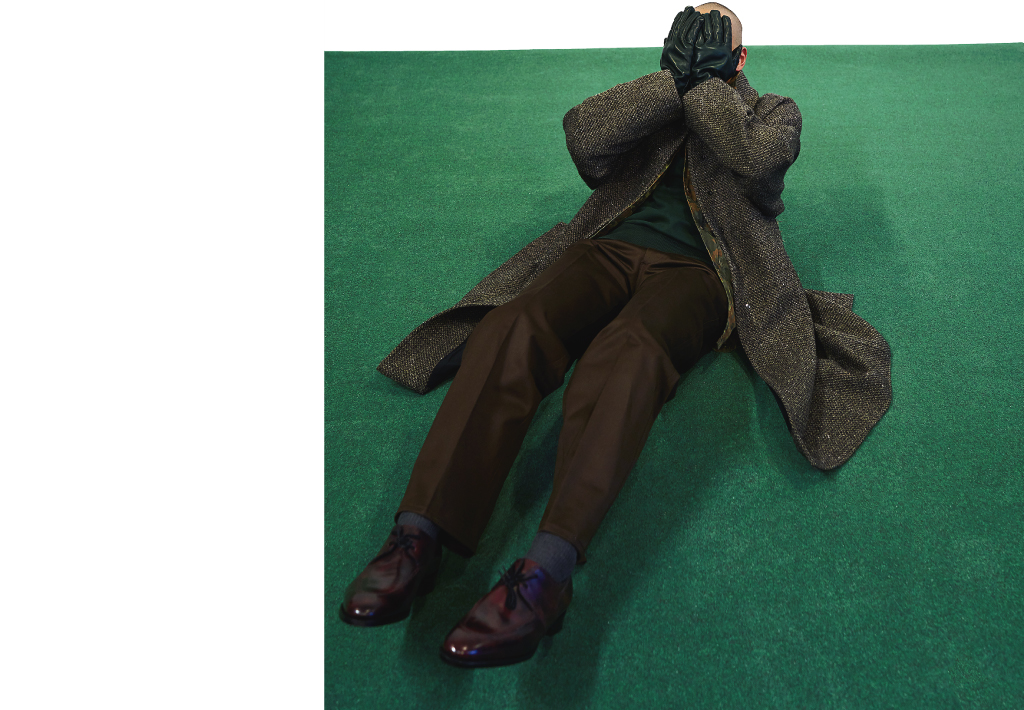 DOBBY TWEED BALMACAAN COAT ¥145550, MOLESKIN 5 PKTS TRS ¥85000, CURVED GLOVES GREEN ¥31350 / Omar Afridi, JOHN LOBB WREY ¥253000 / JOHN LOBB JAPAN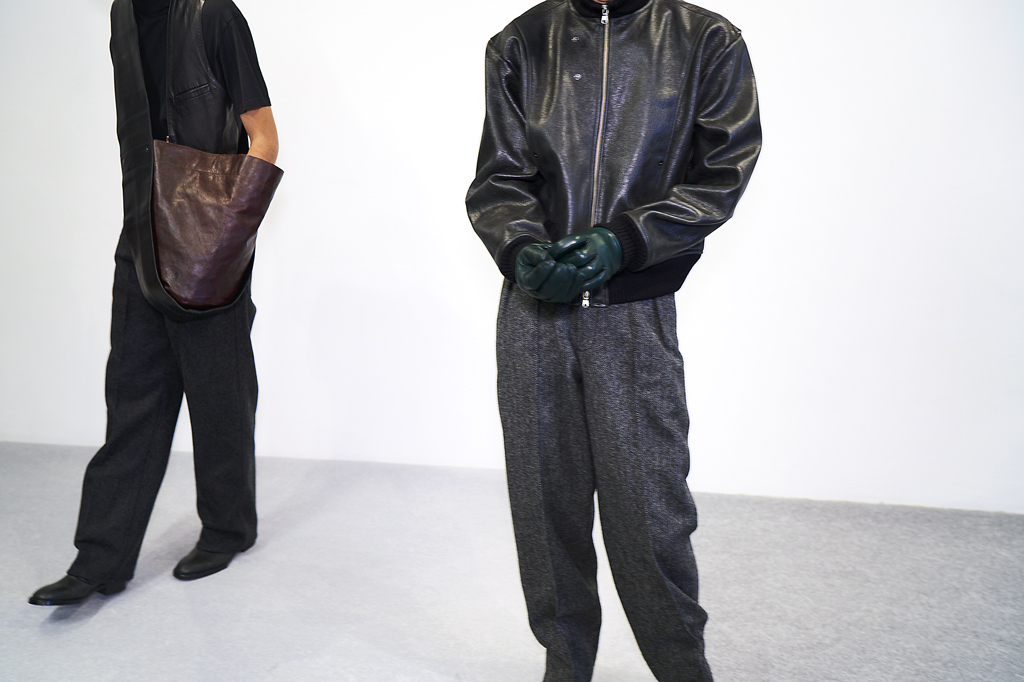 (Left) DRAWN BAG ¥95000, HUES FELT 5 PKTS TRS ¥98000, DRAWN BOOTS ¥111000 / Omar Afridi (Right) PILOT BLOUSON ¥190000, FOX TWEED PRESSED TRS ¥94050, CURVED GLOVES GREEN ¥31350 / Omar Afridi


The classic by itself, however, has many different perspectives. The stylist Keita Izuka gives a new life to our collection. His interpretation of Omar Afridi is very realistic and has captured the imagination of the man we admire. "This is", he says, "one of my favorite visuals in the editorial". Isn't this Headphones + Half naked + Tweed trousers + Pink socks combo too chic?" (Image-P1 left)

It owes its origins to the style set by vintage 60's LEVI'S 505 BIG" E, which is damaged and slouchy, and to the vintage 60's L2-B, giving us this combination of Omar Afridi's Herringbone Tweed Balmacaan Coat, with its zigzag snap button at front open, with relaxed silhouette, the chic glossy enamel shoes from John Lobb and the vivid orange leather gloves. Keita says, "This look is a combination of the sophistication and robustness of OMAR with my current mood. I hope Kikuta will give it a try."

The leather items and tweed trousers were characteristic of this season. The individual items are sophisticated and the styling itself is solid, with an image of vertical lines. The combination of leather blouson and tweed trousers is Keita's personal answer to the two dudes who live in London. In a timeless item, the simpler the design, the more important is the detail. While our creative mood and thoughts are changing all the time, we keep exploring the possibilities of new recipes to make the beauty of fashion.